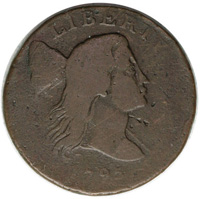 Even though the 1795 Jefferson Head Liberty Cap Large Cent is listed in the Red Book, it is not an official Mint product. These enigmatic pieces were made by John Harper, who had hoped to win a coinage contract from the federal government, which he did not succeed in accomplishing.
The variety had been known for many years, but was not readily identified until 1952, when Walter Breen concluded what the mysterious pieces in fact were. Found with both a plain edge as well as a reeded edge, the former being the rarer of the two, they are all scarce and often included in a specialized collection of large cents. From the circulated pieces which have survived, it appears that after striking the coins were placed in circulation, where they remained, unnoticed until withdrawn with all other early coppers.
A few corroded examples have sold in the past decade for prices ranging from $15,000 to $20,000. The Garrett Specimen graded NGC VF25 was sold for $184,000 in March 2012.