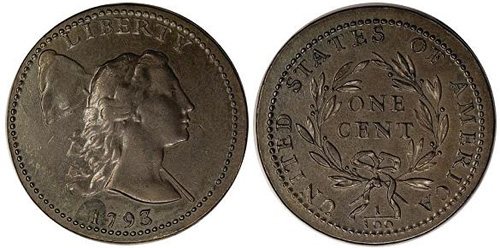 The 1793 Liberty Cap Large Cent (Buy on eBay) represents the first issue for the series, but also the third type released during the first year of the denomination. The total mintage was just 11,056 pieces from a single delivery made in September 1793, less than a week after the coin's designer Joseph Wright had died from yellow fever.
Notably, this issue represents a different subtype than later issues of the series. The obverse and reverse have raised beaded borders around the circumference, which would be replaced with dentils in the following year.
The low mintage of the 1793 Liberty Cap Cent makes it the rarest of the three different designs issued for the denomination that year, although demand is typically not as high. Nonetheless, the issue remains very popular and examples can be difficult to find in all grades. Virtually all surviving pieces are circulated, with uncirculated specimens representing great rarities.