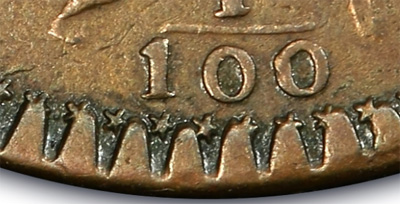 Mystery surrounds the 1794 "Starred Reverse" Liberty Cap Cent (Buy on eBay), which is one of the most famous large cent varieties. Along with 83 dentils around the circumference of the reverse, there are also 94 tiny, five-pointed stars. In some cases, the stars are covered by the dentils, suggesting that the stars were engraved first.
Many theories have been proposed to explain the existence of this variety. These have included the possibility of a leftover die from 1792, leftover planchets from the same year, or the use of the stars as an anti-counterfeiting measure. The true story will perhaps never be known, which only serves to add to the popularity of the issue.
The variety was not discovered until 1877, by which time all examples had been well-circulated, lost, or destroyed. Approximately 50 examples of the variety are known to have survived. The single finest example graded PCGS AU50 and sold for $632,500 at an auction held in February 2008.