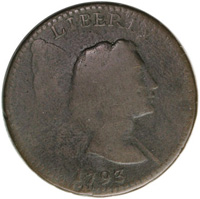 The Liberty Cap Large Cent was produced with four different dates, although advanced collectors will pursue a multitude of varieties. The mintage levels for each year were relatively high with the exception of the first year of issue in 1793 when 11,056 pieces were struck.
The highest mintage occurred in 1794 when 918,521 pieces were struck. Eventually the denomination would start to see production regularly surpassing one million pieces per year, but this did not occur until subsequent series.
For the purposes of assembling a type set collection, circulated examples of the Liberty Cap Cent can be acquired without much difficulty. These coins are also popular as one of the most affordable examples of federal United States coinage carrying an 18th century date.
Listed below are the mintage quantities by year. As noted, advanced collectors will often collect by variety, which results in several extreme rarities.
| Issue | Mintage |
| --- | --- |
| 1793 | 11,056 |
| 1794 | 918,521 |
| 1795, Lettered Edge | 37,000 |
| 1795, Reeded Edge | 501,500 |
| 1796 | 109,825 |